KIRIT AUTO INDUSTRIES manufactures a comprehensive array of flanged bushes and shoulder washers, with standard Imperial and Metric sizes available ex stock and quick delivery on non-standard sizes. Bushings made out of plastics are created by combining various kinds of resins(s) with reinforcement fibres as base material. They are typically produced by using injection moulding machines and are especially well suited for mass production, low cost, and short delivery time – even for custom orders. 
Plastic washers can offer a range of benefits apart from providing spacing and load distribution between components. They can resist corrosion, allow for easy loosening and tightening of screws and bolts, and help protect surfaces when a non-metal washer is needed. We are pleased to offer a comprehensive selection of plastic washers to accommodate all manner of specs. If you need them in a specific size, shape, or thickness that you do not see here, send us an RFQ with your requirements and we'll help you get started with your custom order of plastic washers.  
O rings are used to block a path which may otherwise allow a liquid or a gas to escape. The o ring is placed into a groove to secure them in place, and then compressed between two surfaces. The O-ring is the most widely used seal in industry today. It is simple in concept, easy to install, can be used as a double-acting seal, can seal pressures to over 5,000 psi in static and dynamic applications and, best of all, is very economical. While simple in concept, it can be very sophisticated in its applications.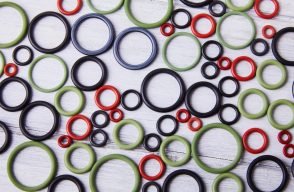 KIRIT AUTO INDUSTRIES's O-ring Kits offer convenience and easy use, making them the ideal solution for maintenance applications. These kits are effective tools in reducing costs for maintenance and assembly staff by eliminating the guess-work in part selection and saving time in part sorting. O-ring Kits are an excellent tool for shops, maintenance workers, or crews out in the field. These kits have assorted sizes of high-quality O-rings which comes handy during emergency replacements and reduces downtime drastically.
A grommet is a ring inserted into a hole through a thin material, used to prevent tearing or to cover the sharp edges of the pierced material. We manufacture Rubber Grommets of different shapes & sizes made from a variety of rubber grades like Neoprene, Nitrile, Silicone, EPDM, FKM, or Natural Rubber. From electrical wires to surgical devices, you can find grommets in most items. These seemingly minor things can also be found in shower curtains, shoes (for your shoelaces) and other everyday stuff. So grommets, however common they may seem, serve a wide range of applications. They reinforce and protect holes, and for items with rough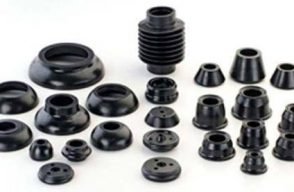 A dust cap is a small cover used on the valve stem of a bicycle or car tire to prevent dust or other small particles from entering the valve and damaging it. The dust cap also forms a pressure seal, helping to prevent deflation of the tire due to slight gas seepage past the tire valve. A dust cap may also refer, on a bicycle, to the crankarm bolt cover. It is usually a piece of metal or plastic that, on the crankarm, is snapped or screwed into the threaded counterbore, which houses the bolt that holds the crankarm to its axle, the bottom bracket spindle.
Plastic Spacer should only be used in non-critical locations and should not be used for structural members with higher physical and temperature loading forces. Concrete Plastic Spacer prevents rebar's from corrosion, protects them from fire and also helps to present appropriate transfer of stresses from concrete to plastic bars.  Plastic Rebar Concrete Spacer is used to perform this task. Plastic spacers are often used to achieve precise spacing between components and/or materials.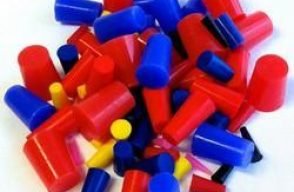 KIRIT AUTO INDUSTRIES offers a complete line of masking products for the finishing industry. Our standard product line consists of caps, plugs, stoppers, tapes, tubing and sheeting. This product is available in a range of materials that include: Silicone, EPDM and High Temperature Vinyl. In addition KIRIT AUTO INDUSTRIES can provide custom solutions with custom moulded parts and custom dies as well as custom kits.  For hanging parts a line of hooks and modular racks is available.
We bring the assortment of packing boxes in different design, shapes and colours for our clients based at all over the world. These packing boxes are used for storage of various items. We fabricate these products according to the needs of clients. These packing boxes are available in attractive and trendy design. All packing boxes are durable and lightweight and some packing boxes are reusable. We bring Transparent Rigid PVC Long Boxes which are used for storing long items without damage. We have designed them to make it easy to handle any kind of items with all sort of equipment's. These boxes are fabricated according to the prerequisites of clients. These boxes are durable and lightweight at affordable prices for our clients worldwide. Our designers have designed the bags using the innovative techniques so that they are easy to carry.